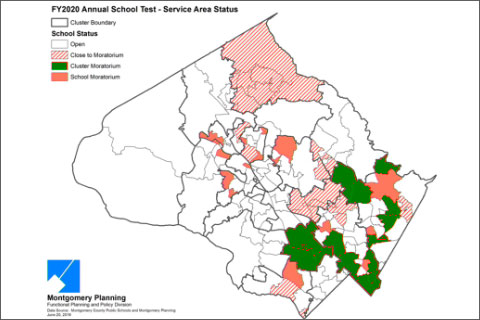 *The Montgomery County Planning Board will freeze residential construction in roughly 12% of the county for one year, starting July 1, due to overcrowding in neighborhood schools. Most of the areas in moratorium are in the southeastern portions of Montgomery County, including parts of Bethesda and Silver Spring. The suspension on new construction is intended to ensure there is adequate space to accommodate students and will not affect projects that have already received final approval to proceed.
*Developers Foulger-Pratt and ProMark Real Estate of Rockville have altered their plans for a five-acre parcel of land in North Bethesda at the intersection of Nicholson Lane and Huff Court, reducing the total number of apartments to 567 to add 38 three-bedroom units and increase the percentage of two-bedroom units. They are also seeking to move parking above ground and reduce the number of provided spaces from 701 to 529.
*FP Whitro Westlake received preliminary approval from the Montgomery County Planning Board for a three-building project along Park Potomac Avenue, off I-270 near Montrose Road, which will include multi-family residences, commercial and retail space.
*County planners released plans to double the number of dog parks, identifying 13 sites for future canine recreation spaces. The recommended sites include: North Chevy Chase Local Park, Elm Street Urban Park, Norwood Local Park, Willard Avenue Local Park, and Wall Local Park.
*Bethesda-based developer Starr Capital dropped plans for a movie theater at its Wisconsin Avenue property and reduced the number of residential units to 188 from 200. The site formerly included the Regal Cinemas at 7272 Wisconsin Avenue.
*The Planning Department is launching a multi-year effort to develop a "pedestrian master plan" that will increase walkability along county roads and make streets safer and more accessible for bicyclists. The two-year process will include an analysis of each street and detailed recommendations for improvements.