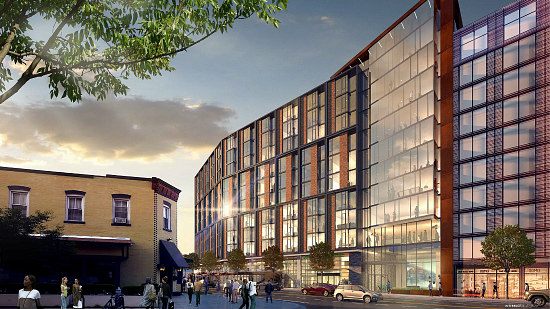 The Wren, at 965 Florida Avenue NW, will deliver 433 residential units later this year. 130 units will be affordable to households earning up to 30 and 50% of area median income and there will be 350 parking spaces. Amenities in the building include a two-story fitness center, rooftop pool, and landscaped "skywalk bridge."
JBG Smith's Atlantic Plumbing development, at 943-945 Florida Avenue NW, will soon be complete, delivering 161 residential units and 95 hotel rooms. The development also features 19,000 square feet of retail and restaurants.
The Grimke School, at 1925 Vermont Avenue NW, will be restored and retrofit to deliver a mixed-use development with residential, arts and loft office space, along with a new home for the African-American Civil War Museum. The first phase is scheduled to deliver Fall 2020.
PGN Architects will deliver nine residential units above 51,230 square feet of cellar and 3,299 square feet of ground-floor retail at 1612-1616 7th Street NW.
A development team comprised of Ditto Residential, Group360 Real Estate Advisors, and Irving Development will construct a seven-story project at 7th and R Street NW with 118 apartments above 8,000 square feet of retail. 30% of the apartments will be affordable units, and the development will include a public park.
The condo, townhouse, and church development at City Market at 1336 8th Street NW will deliver a ten-story building with 79 condos, five townhouses, 3,500 square feet of retail, and 1.350 square feet of space for Immaculate Conception Catholic Church. 26 units will be affordable and there will be 23 below-grade parking spaces.