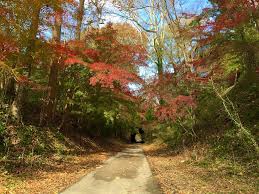 Whether you're a serious or an amateur cyclist, the D.C. area is home to a wide variety of bike trails, and the fall is one of the best times to get out and enjoy them. Below, we've highlighted five of the greatest trails around D.C.
1. The Chesapeake & Ohio Canal
This historic park follows the Potomac River, spanning 184 miles, with views of Harpers Ferry and Great Falls. The road is unpaved, so thin road tires are not recommended. Access the trail in Georgetown.
2. Capital Crescent Trail
This trail covers about 11 miles of trail, both paved and crushed-stone, in D.C. and Maryland. Going south, the ride is mostly downhill and includes many shady areas.
3. Washington & Old Dominion Trail
This 45-mile trail, extending from Shirlington to Purcellville, Virginia, is completely paved and 100 feet wide.
4. Sligo Creek Trail
This paved trail in Montgomery and Prince George's counties spans 10 miles and is one of the most scenic in the D.C. area.
5. The Metropolitan Branch Trail
This 8-mile trail extends through many residential neighborhoods in D.C., including Brookland, Brightwood, and Takoma.