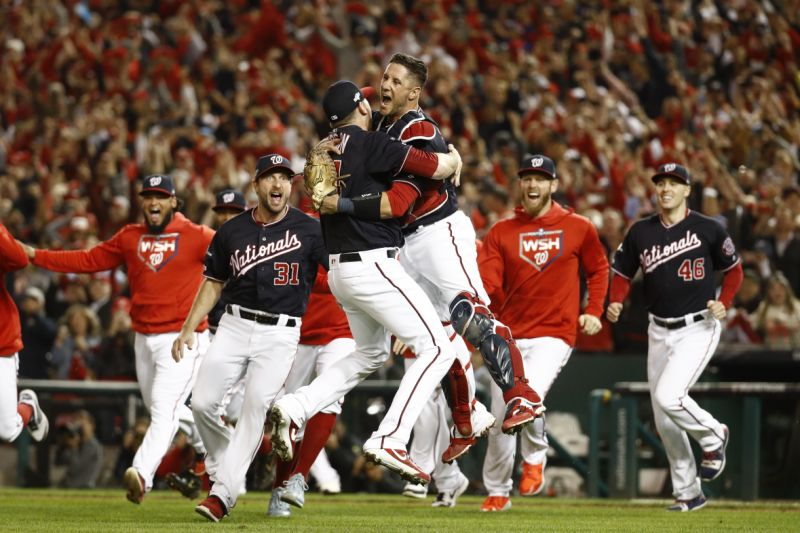 Photo Credit: Yahoo Sports
Congratulations to the Washington Nationals on their NLCS series win against the St. Louis Cardinals! With a game four, seven-run first-inning explosion, the Washington Nationals swept the St. Louis Cardinals in the NLCS and will head to their first MLB World Series in franchise history! The Nats will be taking on the winner of the ALCS, either the Houston Astros or the New York Yankees and are the predicted underdogs in both scenarios, but we have hope. The next series will start on Tuesday, Oct. 22, and we know many of you will be excited to watch them hopefully take home the title, but if $700 tickets aren't in the cards, here are some fun viewing alternatives:
*The Brig is a large German-style beer garden and a popular pregame Nats hangout due to its 1-mile proximity to Nationals Park. During the playoffs, The Brig has been projecting the games on a 25-foot screen on a building next-door. This is a great outdoor viewing option, especially for groups. They also feature a row a TVs behind the bar if weather is an issue.
*The Bullpen is a beer garden and popular Nats fan stomping ground located right next to the park's center field gate. They offer plenty of viewing options along with live music and drink specials.
*Duffy's Irish Pub shows the games with sound, great food and a collection of Nats bobbleheads all around. The bar offers $1 beers, half-price burgers and free uber rides from Duffy's to the ballpark.
*Penn Social has been deemed one of the best sports bars in the D.C. area by the Washington Post and has unbeatable projection screens with one 22-foot screen and nine 10-foot screens. If you want to ensure a great viewing experience, this is definitely the place to go.